Firework Fundraising around Phoenix, AZ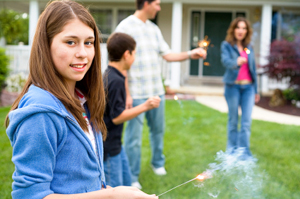 Red Hot Fireworks is proud to offer profitable fundraising opportunities for everyone! Operating a fireworks location is a unique and fun way to earn extra income over the summer. Below you'll find some frequently asked questions that will help you learn about our amazing opportunity.
Why sell fireworks?
Selling fireworks allows you or your organization a fundraising opportunity that could streamline your fundraising efforts. Instead of five to ten annual projects or a full time summer job, Red Hot Fireworks can maximize your earnings by selling fireworks once a year.
Are fireworks legal in Arizona?
Yes, as of 12/1/2010, Arizona has authorized the sale and use of consumer fireworks that are classified as "Safe & Sane". This classification includes: fountains, ground spinners, sparklers, novelties, and smoke items. This does not include: rockets, firecrackers, or artillery shells. Red Hot works to ensure all locations meet or exceed all requirements necessary to operate a particular location.
How will I know what is needed to operate effectively?
Red Hot Fireworks will provide you or your group with an extensive training orientation and support program to help run your location effectively! Red Hot provides the location, facility, and a large retail order, carefully selected merchandise based on our experience. Additionally, we are here 24 hours a day to provide ongoing assistance.
How much can I make?
Profits are determined by volume and based upon 15% of gross sales at suggested retail. While we cannot guarantee a specific amount you will make, our lowest volume locations should earn a minimum gross profit of $ 2,000. Medium to large volume locations will earn you considerably more than that amount.
How much time is involved?
The average sales season lasts around two weeks, give or take. Your group will need to provide all necessary staff to sufficiently cover business hours. Which we suggest be 9am-9pm.
Where will we sell?
Location, Location, Location! Conducting your business at a location with great visibility and a high traffic volume is key to the success. We work diligently with retailers and property owners to secure the best locations possible. Feel free to call for available locations, or if you have a suggestion or possibility please let us know.
What Red Hot Fireworks Can Do For You?
Red Hot Fireworks provides you or your organization with the opportunity to conduct a fundraiser that enables your group to raise substantial funds with no money paid up front.
We provide invaluable retail business experience that is very transferable to all other jobs and sounds great to future employers during interviews!; PRICELESS!
Your people will grow as a team by uniting together towards one common goal
IMPACT the community around you
A shot to make thousands of dollars in around two weeks
Need I say more: Money, purpose, and reaching people!
About this opportunity...
We take time to research what is legal. The products we sell are "Consumer Grade" Safe-and-Sane fireworks. In other words we do not sell: firecrackers, rockets, roman candles, or aerial items in Arizona which has not approved these types of sales. We are proud to legally offer a fantastic selection of: novelties, ground spinners, smoke items, sparklers, fountains and assortments.
No up front money needed...honestly.
You collect all the money during the sale. You pay Red Hot at the end of the sales period. You only pay for what you sell. You will receive credit for all product returned in good condition.
Perfect for Individuals, Families, Church Groups, Sport Teams, Service Groups or any other Associations You provide the manpower.
Try this opportunity and you will likely choose to do it year after year
Red Hot Fireworks operates under all state and local ordinances, and will assist or acquire all necessary permits and licenses.
If you have any questions or need more information, please feel free to contact us.
Don't let this fun and profitable Fundraiser or Summer Job pass you by.
To make your fundraiser a success, Red Hot provides:
Sales Training for you and your group
Tent set-up supplies: Signs, Price Cards, and Decorative Bunting
Marketing Aids
Product DVD Product and Premise Liability Insurance at a co-pay cost of $100 paid at season end
Secured, prime retail location
Professionally installed facilities (tent)
Credit Card Sales Program
Delivery of Merchandise to your location
Full time Support Program
End-of-Season Merchandise Return Center
Issue full credit on damaged product (No Dud Guarantee)
Take a look at our photo gallery (Click here)
Fundraising
Red Hot Fireworks is proud to offer profitable fundraising opportunities for everyone!
Learn More
Specials
Check out our current specials and sign-up to receive deals by email.
See Specials