Firework Tents in Peoria, AZ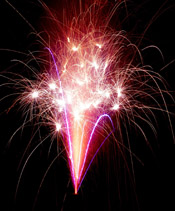 Red Hot Fireworks has the best prices and selection in the Peoria area. We sell the Black Cat Firework, Cutting Edge Fireworks, World Class Fireworks, along with many other top brands.
Peoria:
Lake Pleasant & W. Mariposa Grande – Peoria, AZ 85383
Open from 9am - 9pm from Dec 22 to Jan 1 and June 24 from July 4
Shop Online Year Round
Shop Now
Remember to look for the red, white, and blue red hot fireworks logo for the best prices, quality, and selection of fireworks in Arizona, including the Phoenix metro area.
Fundraising
Red Hot Fireworks is proud to offer profitable fundraising opportunities for everyone!
Learn More
Specials
Check out our current specials and sign-up to receive deals by email.
See Specials