Fountain - Moonshine Spinning - $7.95
Yee Haw! There's nothin' still about this 5 fountain-spinner combination! Silver, colors & crackles are distilled to knock your socks off. After you start seeing a blue flame...watch out! The whole world spins, or at least if feels that way when the whistling-whirler starts spinning the whole thing. Click here to view the video.
Avg. Duration: 45 sec.
Size: 3-3/4" H x 3-5/8" Ø
Effects:
1. Purple titanium rain, blue star, silver crackles
2. Blue titanium rain
3. Titanium whistles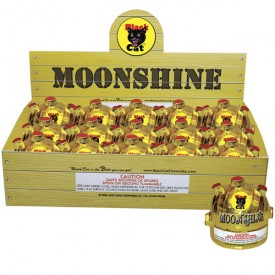 View Large Image
Subscribe for Deals and Updates!