Fountain - Big Cat - $16.00
Big Cat has color & claw-like effects, like gold sparkling chrysanthemums & snow pines. The Cat finishes the fight with a big sparkler.
Click here to view the video.
Size: 8-13/16" H x 4-1/4" Ø
Avg. Duration: 60 sec.
Effects:
1. Blue & orange spark with gold sparkling chrysanthemum
2. Silver flower crackle to red plum
3. Green sparks & snow pine to red spark & big sparkler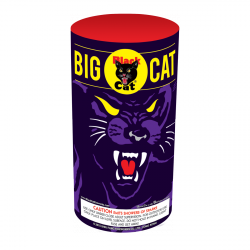 View Large Image
Subscribe for Deals and Updates!